Clean It All!
A superior product that professionals & savvy homeowners use to clean fireplace glass, stonework, barbeque grills and more.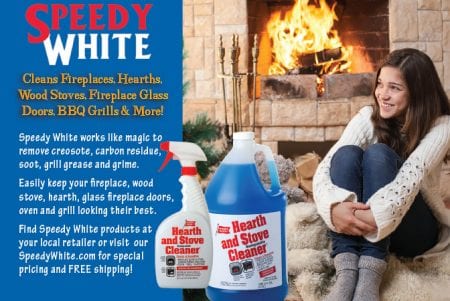 Speedy White cleans fireplaces, fireplace glass doors, wood and pellet stove surfaces like nothing else!
Ski resorts, hotels, B&B's, lodges, restaurants and pubs use Speedy White to keep their fireplaces, pizza ovens and grills looking great.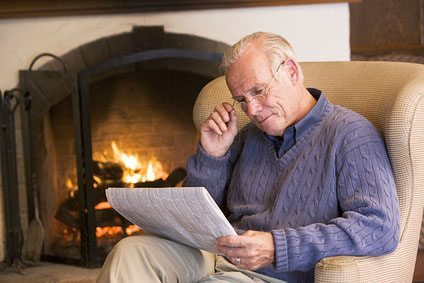 This versatile product is also useful in cleaning carpets, cigarette smoke stains, bricks, stonework, vinyl, plastic and in laundry applications. It is a terrific household cleaner for cook tops, oven doors, bathroom tile grout and more.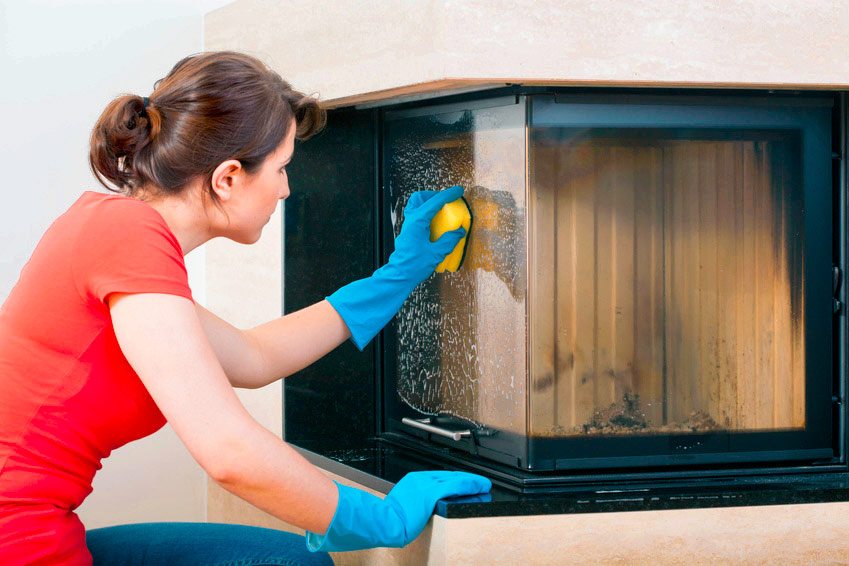 Pool owners use Speedy White on their vinyl and plastic furniture, as well as a light concrete pool deck cleaner. Boaters often use Speedy White on their fiberglass and seat cushions to keep things in top quality condition. Auto detailers use Speedy White on difficult carpeting and rubber floor mats.
Speedy White is an excellent carpet cleaning product. Our formulation is almost exactly what Stanley Steamer carpet cleaning services use for commercial application.
Speedy White is even an exceptional degreaser. The US Navy has purchased Speedy White in 5 and 30 gallon containers for use in San Diego. Junk yards buy Speedy White in 55-gallon drums!
Good Housekeeping Likes Speedy White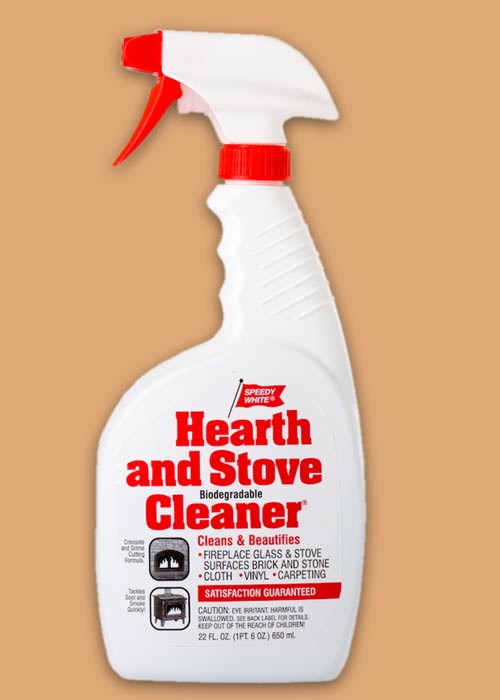 One of the best recommendations we ever received was over a dozen years ago from the Good Housekeeping Research Institute.
They reviewed seven creosote cleaners and concluded that Speedy White "truly shown" among the competition!
Speedy White is the ONLY product that I use to clean my natural white brick fireplace. It removed the soot and soil that accumulated over several years time. I am thrilled with your product. I used the phone number on the bottle to contact you. Thanks!
Once in a while a consumer comes upon a product that really works and does what it says it will do. Such is the case with your Speedy White Fireplace Cleaner. They told us about your cleaner after a month of scraping the glass on our doors to clean them, and we decided to try the product. We were thrilled after only one application at the ease with which the product worked. In only seconds, our glass doors were like new and sparkling clean. Our thanks and a round of applause to your company for this product.
Initially, I used Speedy White on a wood burning stove where it melted the soot and grime as advertised. One day, I ran out of Brand-X cleaner for some plastic lawn furniture and decided to see what Speedy White could do. The plastic came out spotless. I was amazed! Speedy White has now replaced Brand- X, Y, and Z cleaners!!! I use it, both straight and diluted per instruction, in every area of my home, shop, on the cars, and on an old airplane. I've recommended Speedy White with confidence to friends and family. It really "does it all". Thanks again for a solid product, and I hope you stay in business for a long time!
When we moved into our current home 2 years ago, the previous owners had left the rest of their Speedy White cleaner. It really is amazingly good at cleaning the glass doors and white stone of our fireplace. We use the fireplace almost daily in the winter, so I need to clean the doors and stone frequently (more often than I do because I was hoarding the cleaner I had). Anyway, love the product. It does what its supposed to do!